Boston Red Sox legend Fred Lynn thinks Jackie Bradley's time is now
By Gordon Edes | ESPNBoston.com
Originally Posted on ESPN BOSTON.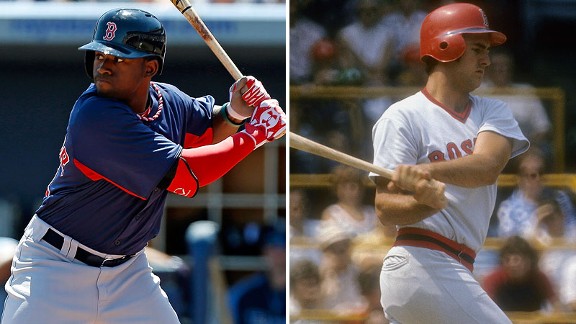 Getty ImagesCould Jackie Bradley Jr. make the same rookie impact as Fred Lynn did in 1975?
FORT MYERS, Fla. — He has yet to see him play, but the best Red Sox center fielder in the past half-century is hearing and reading the same things about Jackie Bradley Jr. that you've been hearing and reading.
And for Fred Lynn, who was the same age as Bradley in 1975 when he was named American League MVP and Rookie of the Year, there really should be no debate about where Bradley begins the 2013 season.
"There's no erring on the side of caution," he said by phone Monday night. "The kid's got some ability. Throw him in there."
Lynn laughed. "Throw him in there. He'll do fine."
The parallels are striking. Lynn turned 23 in February 1975. Bradley turns 23 on April 19. Lynn was the 41st player taken overall in the 1973 draft, a second-rounder. Bradley was the 40th player taken overall in the 2011 draft, a first-round sandwich pick.
Lynn went to USC, the one in Los Angeles. Bradley went to USC, the one in Columbia, Sotuh Carolina. While there, Bradley played on Gamecocks teams that won two College World Series. "One less than me," said Lynn, who won all three years he played for the Trojans.
"The kid came from a big program and is used to winning," Lynn said. "That's all good stuff. That may not sound like much when you play in the pros and all, but it is a big deal. At that level and at your age, you're playing the best people, and you won, and you know how to win. You've seen it done. You want guys like that on your club. Guys who have had winning backgrounds, I think that's very important."
Lynn made a dazzling first impression when he was called up by the Sox in September 1974, hitting .419 in 15 games and playing superb defense in center field.
"That little cup of coffee meant a lot to me," Lynn said, "not only because I got to the big leagues, but I was there with older guys and I learned a lot in a month. I also learned I could hit. I said, 'You know what, I can do this. I can hang with these guys.'
"Spring training came around. I said all the right things and everything, but I knew I was going to make the club. I had no doubt in my mind that I was going to make the club."
Bradley has made an equally dazzling first impression in his first big league camp, leading the team in batting average (.444), on-base percentage (.523), slugging percentage (.667), hits (24) and walks (8). And his defensive skills have been a source of wonderment for manager John Farrell, who says Bradley seems to be on the move even before the hitter makes contact.
Bradley did not make a single appearance in left field until sliding over from center in the seventh inning last Friday. He made a terrific catch and also threw out a runner at the plate.
"That's nice to hear," said Lynn, who won the first of his four Gold Gloves as a rookie and glided to balls with elegant, loping strides. "I love to hear about guys coming up who really can pick it. That's an undervalued skill. And I really, really appreciate the guys who can catch the ball and throw it. There are some guys who can catch it, but to have a guy who can catch the ball and throw, that's the combination I haven't seen for a long time.
"If I'm the GM, I want to build for the future and I want to make sure I'm not top-heavy on old dudes, but I want to win right now. Right now. If this kid can help me, bring him in. Pretty simple. That's how I would run it.

"— Fred Lynn, on how Red Sox should handle Jackie Bradley Jr.
"Center field in Boston, you got a chance to throw people out. You got a chance to throw them out off the wall, and everybody wants to run on you from right-center especially, going first to third, and that's what's important keeping that guy off third base. Ellsbury doesn't do that. He can run them down but he isn't going to throw anyone out. You've got to keep that guy off third base. If you've got a guy who can do that, boy, he's really important."
It's regrettable, Lynn remarked, how few homegrown center fielders the Sox have had since he broke in. There is Ellis Burks and Jacoby Ellsbury, but anyone else who lasted for more than a couple of years was an import, such as Johnny Damon and Carl Everett and Darren Lewis.
Lynn said he first heard about Bradley last summer in Portland, where Bradley had just been called up and Lynn was in town for a promotion. That also was the first he'd heard of another top prospect, shortstop Xander Bogaerts.
He knows that Bradley has not had the benefit of playing a year in Triple-A, the way he did. He knows he had 679 plate appearances to 615 for Bradley, only 271 of Bradley's coming at a level as high as Double-A.
"I know where you're going with this," Lynn said to his caller. "Bradley's age and lack of experience. Do you need experience to be better or is your talent going to push you to the forefront? I think it's talent.
"He's already got experience down below. Does he have major league experience? It's the same game, just older guys doing it. Home plate's the same; it's not any bigger or smaller. If anything, conditions are easier in the big leagues because the parks are better.
"He's already done well down below, and he's risen up like a meteor. He knows how to play. I guarantee you, this kid knows how to play, and if he goes 0 for 8, OK, don't worry, it'll work out."
Even after the passage of so many years, Lynn recalled a moment in spring training of his rookie season in which he delivered a powerful message.
Red Sox: Spring Training 2013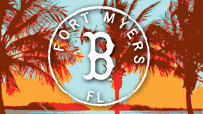 As all eyes turn to Fort Myers to watch the Red Sox prepare for the season, we have you covered. Red Sox blog »
"I forget where we were playing," Lynn said, "but this right-hander was just bringing it. I had no idea who he was.
"People were still trying to figure me out — where are we going to hit him, what's he going to do, where will we play him in the lineup? They knew I could play center, but they didn't know what else to do with me.
"Well this guy threw one, to me it was 100 miles an hour, and I hit a rocket out of the park, off the top of the center-field brick wall and bounced back almost all the way to second base. I was standing on second base and guys were looking at me like, 'Dude, who are you?'
"Things like that stick out in your mind when you're trying to make the club and you're trying to impress people."
On Sunday, in his first start in left field, Bradley faced Cliff Lee, one of the best left-handers in the game, and homered.
"It doesn't take too many things like that," Lynn said, "to say, 'Hey wait a minute, maybe this kid's got something."'
Lynn is acquainted with the argument that the Sox should not only send Bradley back to the minors for more seasoning, but to delay the clock on his potential free agency. If Bradley begins the season with the team and sticks the entire year, he would become a free agent after the 2018 season. If the Red Sox don't call him up until April 12, or if Bradley spends 20 total days in the minor leagues this season, he doesn't become a free agent until 2019.
That argument doesn't hold for Lynn.
"I'm kind of like a 'live for today' kind of deal," he said. "I want to win now, I guess. If I'm the GM, I want to build for the future and I want to make sure I'm not top-heavy on old dudes, but I want to win right now. Right now. If this kid can help me, bring him in. Pretty simple. That's how I would run it."
Lynn, who lives outside of San Diego with his wife, Natalie, makes about three visits a season to Fenway Park, making sure to catch at least one series against the Yankees. He and Natalie will be here in mid-April to see the Rays. He likes to get an early read on the team, he said, especially this year, when the club has undergone so many changes.
He hopes that means laying eyes on Jackie Bradley Jr.
"I think it's wide-open for this kid," he said. "Someone just needs to pull the trigger and say, 'Let's go do it.'
"Tell this kid when you see him, I told him, 'Just keep your head down.' Tell him I said, 'You can play. You've proved it to yourself. Now go prove it to everybody else."'